Published Books
Argent de Nuage
A short story, especially written for the book, by Gianluigi Ricuperati
in Italian, illustrated by 9 original photographs by the following artists:
Valérie Belin - James Casebere - Sylvie Fleury –
Elisa Sighicelli - Anoush Abrar – Evangelia Kranioti
and a printed drawing by John Armleder
Graphic design by Gina Donzé for Base Studio Geneva, and Céline Fribourg
Each traycase, covered with linen, has been painted by John Armleder
A separate sewn-booklet includes a translation into English of the text,
by Starleen K. Meyer, as well as philosophical and literary quotes chosen
by the artists
All copies are numbered and signed by the artists
Each photograph, printed on Hahnemuhle paper, is signed.

Dimensions: 18,5 x 10,5 x 2 inches - Edition of 35 copies
This book is part of the Eros and Thanatos trilogy.

The previous books in the trilogy include A Poisoned Feeling, which proposes envisaging death with heroism. Eros and the Death Impulse examines the physiological mechanisms of impulses. And Gianluigi Ricuperati's Cloud Silver looks at how we, as humans, move around the labile space between the poles of desire and death.

Cloud Silver contains a specially written story of the same name. It is a sociological overview that progressively questions values and examines the conscience. It is set in a metaphysical closed space: a small plane flying a group of people across the Mediterranean. The youthful and impetuous son of its owner takes control of the aircraft, and it dives alarmingly. Time seems immobile; immaterial. One of the passengers – the main protagonist of the story – is convinced that the plane is about to crash into the sea. He remembers his romantic and erotic experiences while contemplating the vanity of his life and his fear of death.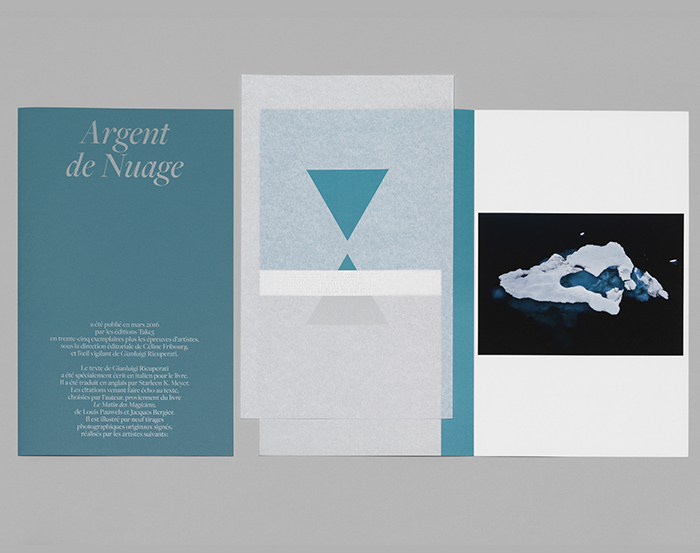 All the chosen photographs make reference to an unconscious state of reminiscence, evoking the colors and reflections of the Mediterranean. Paired with Ricuperati's text, they act as mirrors, but also indicators, using the symbolic value of natural elements such as water and air. Evangelia Kranioti's iceberg, depicting an ocean voyage of initiation; Elisa Sighicelli's transparent, allegorical works in glass; Sylvie Fleury's esoteric grottos; Valérie Belin's derisive vanitases; James Casebere's evanescent plants; and Anoush Abrar's ghostly airbase are all infused with the unconscious, the organic, and the mysterious.

In the system of correspondences between metals and planets, silver represents the moon. It belongs to a symbolic chain: moon – water – female principle. White and luminous, it is also a symbol of purity – every kind of purity. On the ethical plane, and that of psychology, it denotes greed, and an unhealthy attachment to the illusory things of this world. With Cloud Silver, the reader oscillates like an aerial stowaway through contrasts of unconsciousness and materiality, Eros and Thanatos. The reader is a silent witness to the other passengers' desires, expressed in different forms.
As though to leave an enigmatic trace, the text incorporates quotations from Louis Pauwels and Jacques Bergier's The Morning of the Magicians.

The graphic organization of the book combines the influence of the Viennese Secession and that of Ancient Rome, with silvered fields and typographical strips. The photographs' protective covers have a cutout hourglass motif, symbolizing the passage of time, with two triangles – pubis and pyramid – from the other books in the trilogy.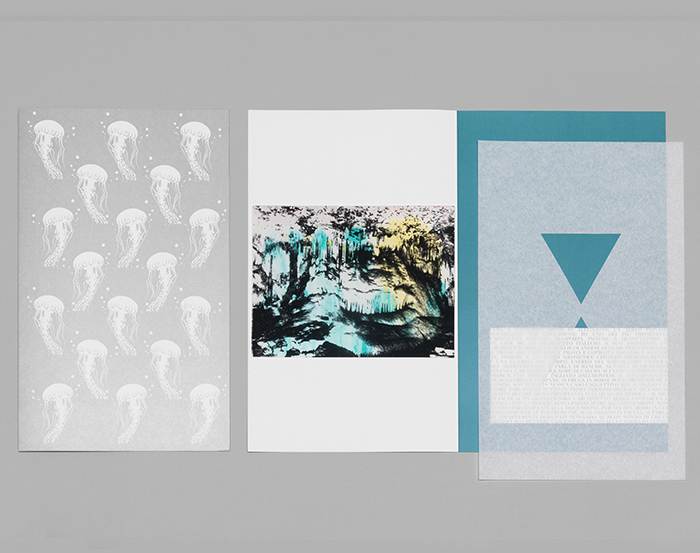 John Armleder, who designed the layout, couldn't resist the temptation to adorn the broad turquoise pages with a decorative jellyfish motif, thus reinforcing the sense of derision associated with the vanity of existence. Each of the boxes has been painted individually, with multicoloured, sometimes scintillating organic flows that suggest patterns of light in the depths of the ocean

Cloud Silver