EDITIONS COROMANDEL : 1996-2003
CITIZEN SIDEL 1996
Photographs by William Klein
(six signed silver prints)
Text written in French by Jerome Charyn,
(translated into English by Marc Chenetier)
Black fabric tray case, with a collage of black corrugated paper
created by Marielle Zarraluqui
Graphic design by Olivier Andreotti and Pénélope Monnet
12 x 16 x 1.4 inches - An edition of 80 copies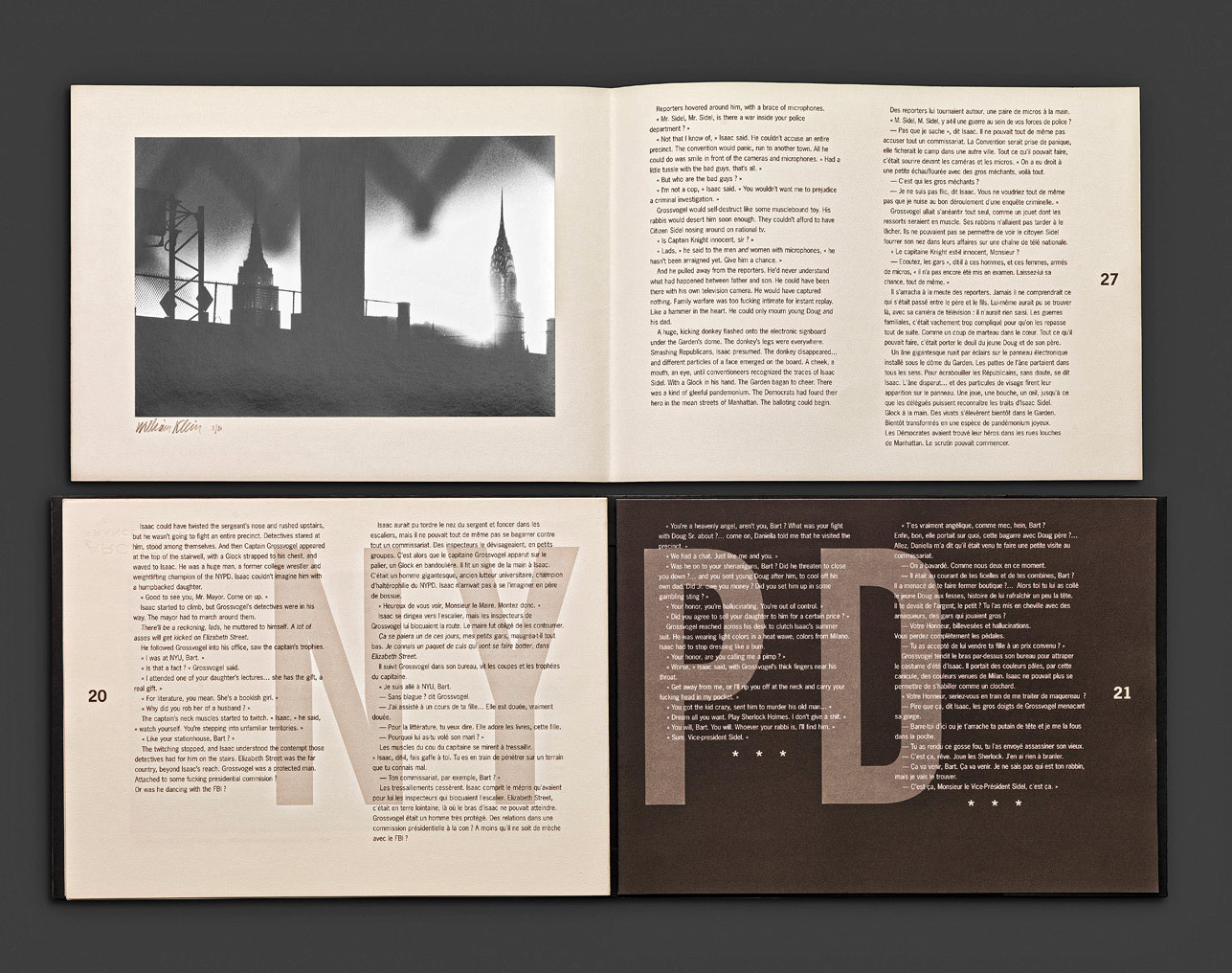 The publishers had thought for quite some time to associate those two American artists because they had parallel destinies. Both were in fact NewYork expatriates in Paris, whose notoriety was bigger in France than in their home country. It turned out that they had known each other for many years and had started to work on a collaboration (the adaptation into a movie by William Klein of a novel by Jerome Charyn) before abandoning the project due to a lack of financing. This mutual admiration permiates throughout the book, reflected by the text and the images. Klein has provided sixtyof his photographs, taken in 1966 in NewYork, to Charyn, who selected among them six images that inspired him most. The text he wrote for the book, is, in his own words, «exhaling steam», as an echo to Klein's images. The former inspector Isaac Sidel, the iconic character created by the writer, has become the mayor ofNewYork and is en route to the vice-presidency. The graphic design was supervised by Klein, and is largely inspired by his pictorial work from the '50s.
BATEKE 1996
Photographs by Graciela Iturbide (4 signed silver prints)
Poems in French by Aimé Césaire and Alvaro Mutis,
unpublished Spanish translation by Alvaro Mutis
Graphic design by Andres Mengs
Traycase made of natural linen
15 x 12 x 0.8 inches An edition of 40 copies
It was the idea of the Colombian writer Alvaro Mutis to bring together different ends of the Caribbean Basin and Mexico with the French Antilles. He had been commissioned by the writer Octavio Paz in the 60s, to translate for a Mexican literary magazine some texts by the two prominent " defenders of the African spirit", the writers Aimé Césaire and Edouard Glissant. The publishers proposed to the Mexican photographer Graciela Iturbide to illustrate these texts, and she instantaneously found in those words themes that were dear to her.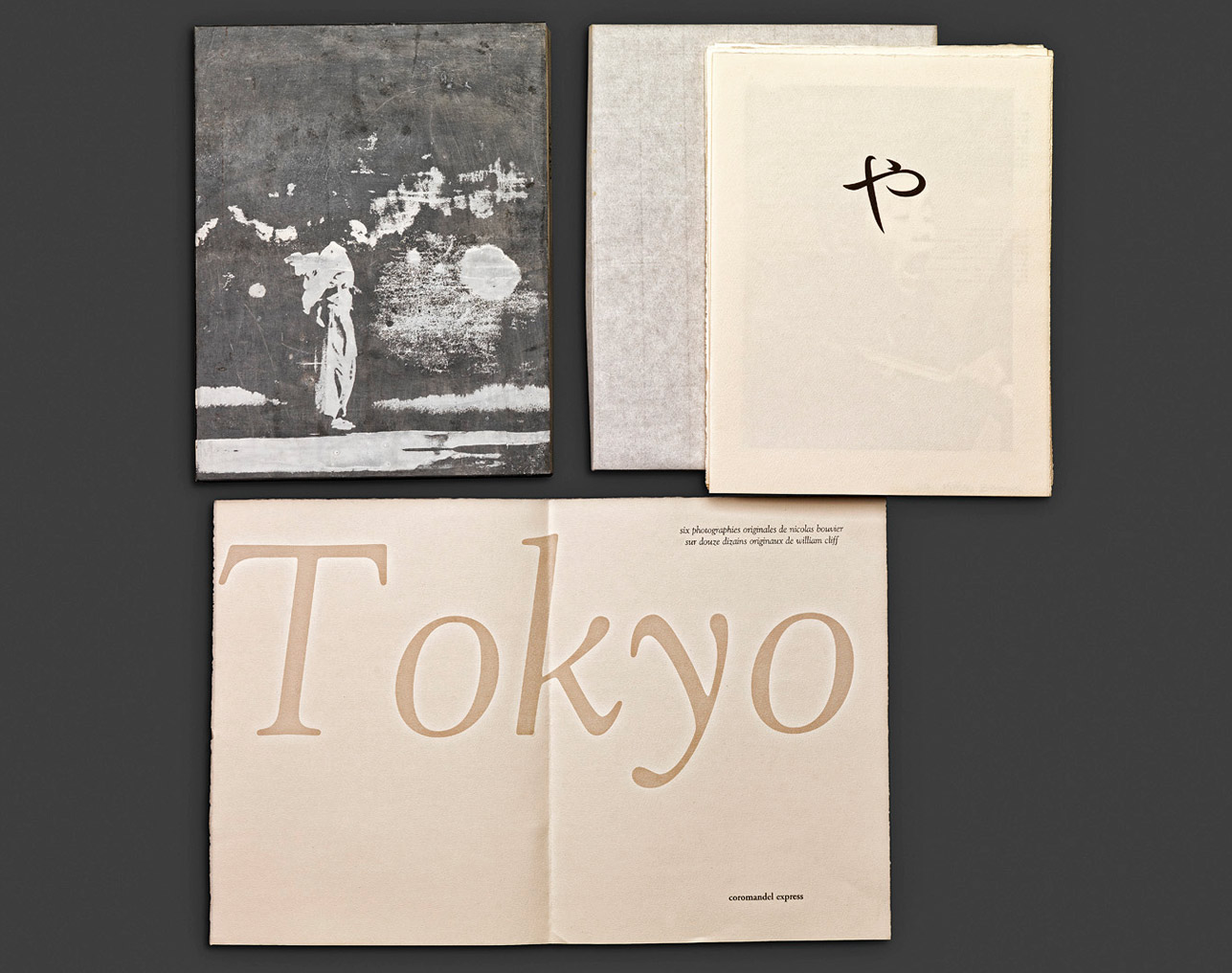 TOKYO 1996
Photographs by Nicolas Bouvier (6 signed silverprints prints pasted on paper)
Text written in French by William Cliff
(translated into Japanese by Yoshida Kanako)
Traycase designed by Manuel Camargo,
made of zinc originating from the roofs of Paris,
with two photographs by Nicolas Bouvier in serigraphy
Graphic design by Jérôme Le Scanff
13.2 x 10.3 x 0.8 inches An edition of 40 copies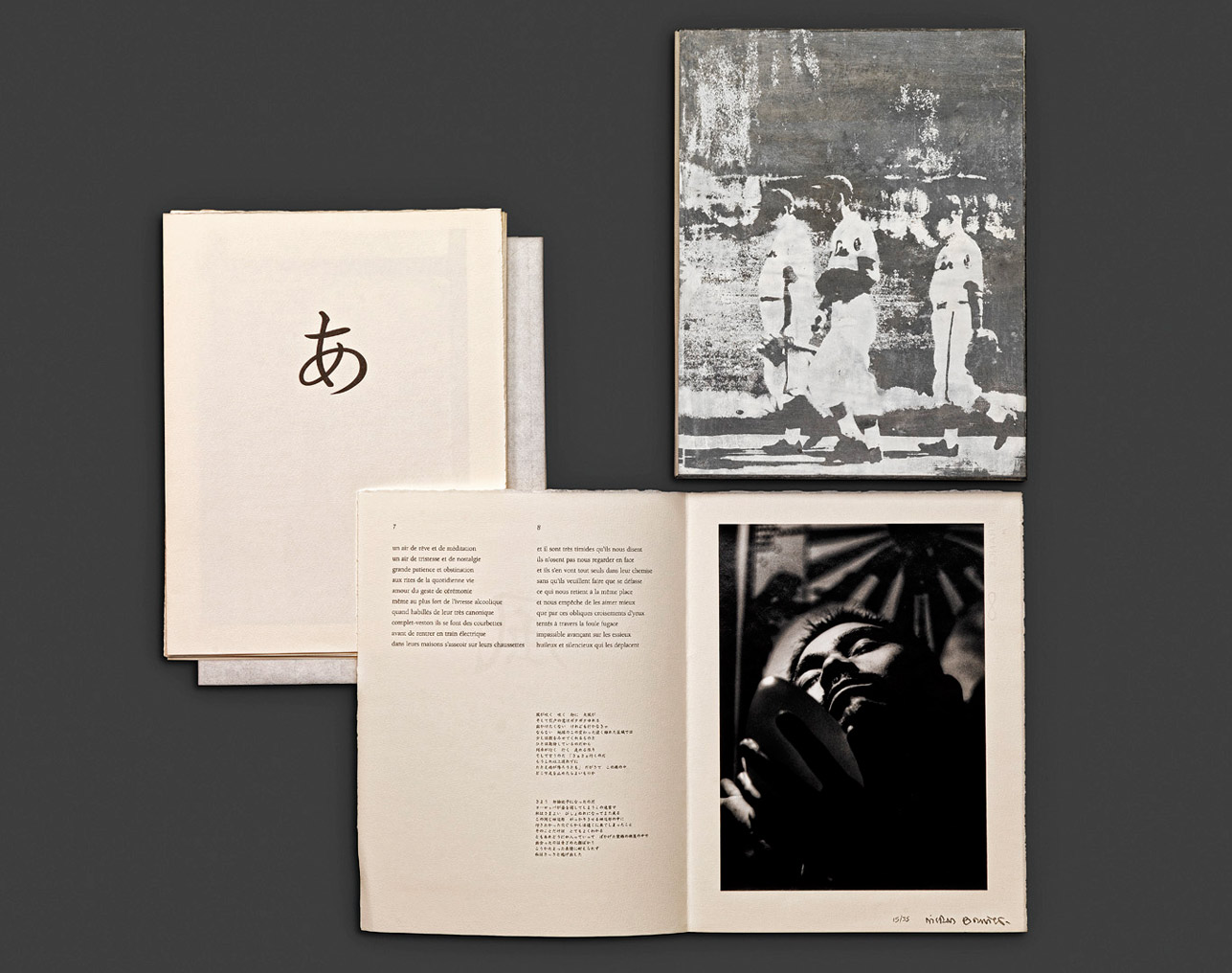 Publishers had initially contacted Nicolas Bouvier in the hope that he would give them a text on India. After visiting him in his Geneva workshop, they discovered images taken during two trips to Japan in the '50s and '60s that they liked so much they decided to use for the book. William Cliff, a Belgian vagabond poet, wrote a dozen free-verse poems describing a recent trip to Tokyo. Against all odds, the two artists did not know each other though their sensibilities were very similar. Bouvier died in February 1998, soon after the publication of the book. The tray case was crafted using zinc plates that came from Paris's rooftops. On each side of the tray case a photograph by Bouvier has been screenprinted, one symbolizing traditional Japan and the other modern Japan. The poems of Cliff were translated into Japanese, to allow the reading of the text in the language of the country of the rising sun but also to enjoy the artistic beauty of Japanese characters.
MUES IMMOBILES 1997
Photographs by Francisco Toledo
(4 signed silver prints)
Text written in French by Raphaël Confiant
(translated into Spanish by Alain-Paul Maillard)
Traycase in fabric tinted by hand with cochineal by Nancy Madrigal,
and a small edition of 12 copies enriched
with original ceramic plates by Gustavo Perez
Graphic design by Olivier Andreotti and Pénélope Monnet
15 x 12 x 1.5 inches - An edition of 55 copies
The originality of the work by Mexican artist Francisco Toledo lies as much in the multiplicity of its influences as in the diversity and freedom of its forms. His rare photographic portraits made a great impression on the Martinican writer Raphael Confiant. They inspired his four prose-poems which intertwine human and animal aspects, and were influenced by the legends of the Amerindians. The cover and the heads of chapters are illustrated with small printed drawings created by the artist. The fabric used to cover the folder is tinted with cochineal, a parasitic insect found in the nopal cactus. This pre-Colombian artisanal method of coloring is slowly disappearing, and only mastered nowadays by a handful of Mexican craftsmen.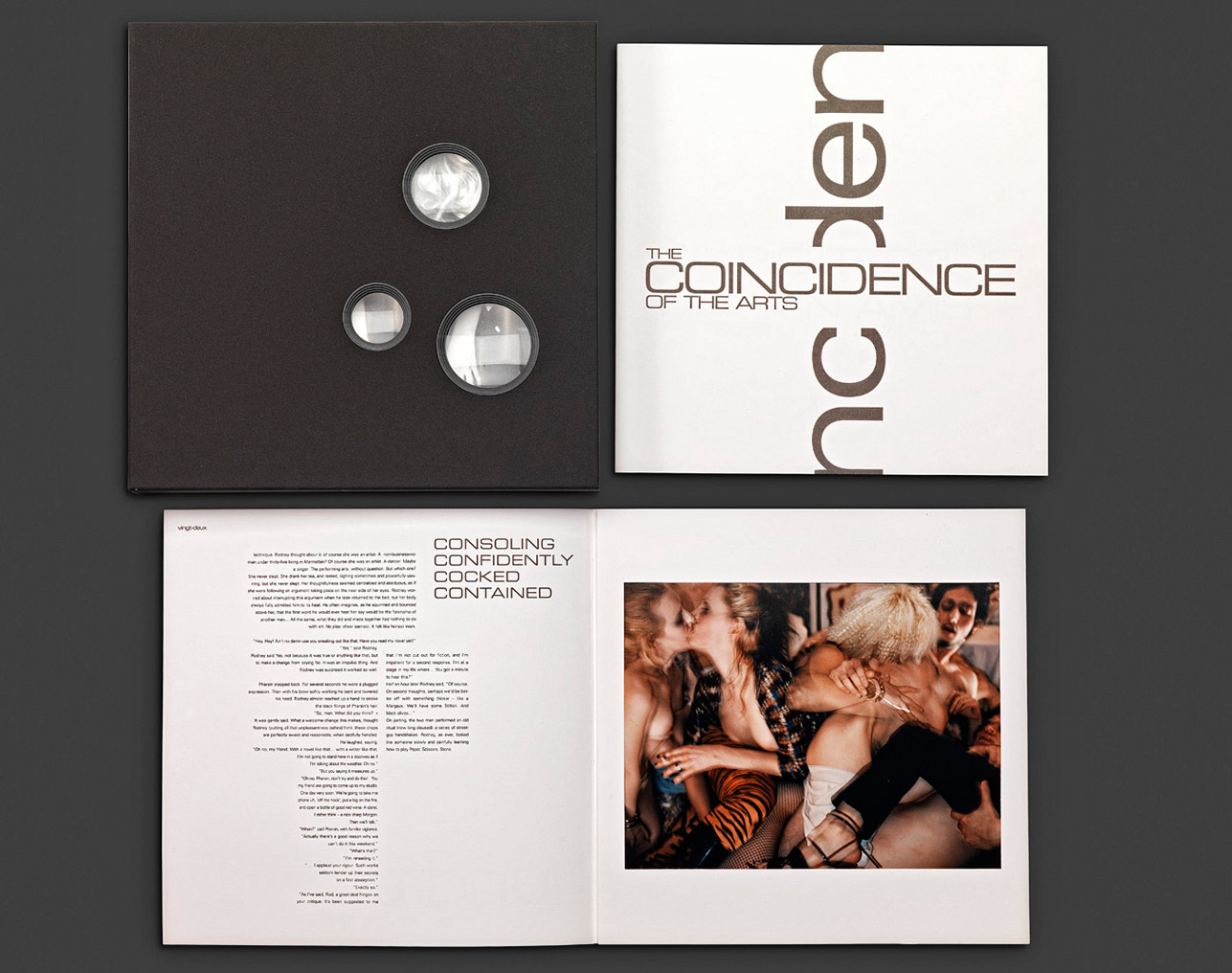 THE COINCIDENCE OF THE ARTS 1998
Photographs by Mario Testino (7 original signed prints,
including three silver prints and four C-prints)
Text written in English by Martin Amis
Black metal tray case inlaid with three magnifying glasses of different
sizes designed by Ron Arad Graphic design by Jérôme Le Scanff
13.7 x 13.7 x 1.2 inches - An edition of 60 copies
The Coincidence of the Arts is a book dedicated to London, where the British writer Martin Amis was born, and where the Peruvian photographer Mario Testino and the Israeli designer Ron Arad lived. They had even been sharing a large loft with other artists in the early 1980s. Although the book is dedicated to London, the artists decided to set its story in New York City. Following a «wild» casting call in the streets of the East Village, the fashion photographer invited a dozen young people to an appartment and immortalized this pretty decadent evening. The tray case of the book, designed by Arad, humorously reveals parts of a busty young woman widely exposed. The blackened steel box is inlaid with three magnifying glasses that evoke the lens of a camera.
My Mother's Killer 1998
Photographs by David Levinthal
(6 original signed cibachromes)
Text written in English by James Ellroy
Graphic design by Olivier Andreotti
and Pénélope Monnet
Printed cardboard tray case fastened
by a Mikado pick-up stick
13 x 12 x 1.1 inches
An edition of 55 copies
James Ellroy 's style is the kind of literature the publishers always wanted to introduce to their illustrated books. The American crime fiction writer and essayist proposed to the Coromandel team, during one of his stays in Paris, the first publication in French of a text he had written about the murder of his mother which had already been published in the American magazine GQ. Reading this text, situated in the Los Angeles of the '50s, immediately made us think of the polaroids of the American photographer David Levinthal. The latter re-creates, using small figurines and toys, scenes from Eisenhower's fanstamagoric America, in order to photograph them: scenes of couples forming or dislocating, deserted dinners, or wandering police patrols.
For the book, the artist chose among his recent works six new images that were reminiscent of the mysterious atmosphere of Edward Hopper's paintings: three photographs in shades of red and three bluish images, taken through the intermediary of a TV screen. The cover of the book is inspired by B-movie posters from the '50s and by their flashy colors and catchphrases.
Resulting from a mistake by the printer, who inverted the colors, two different versions of the title page were printed, one on a red background and the other on a blue background. Few copies include both versions. The cover flap is held closed by a Mikado pick-up stick.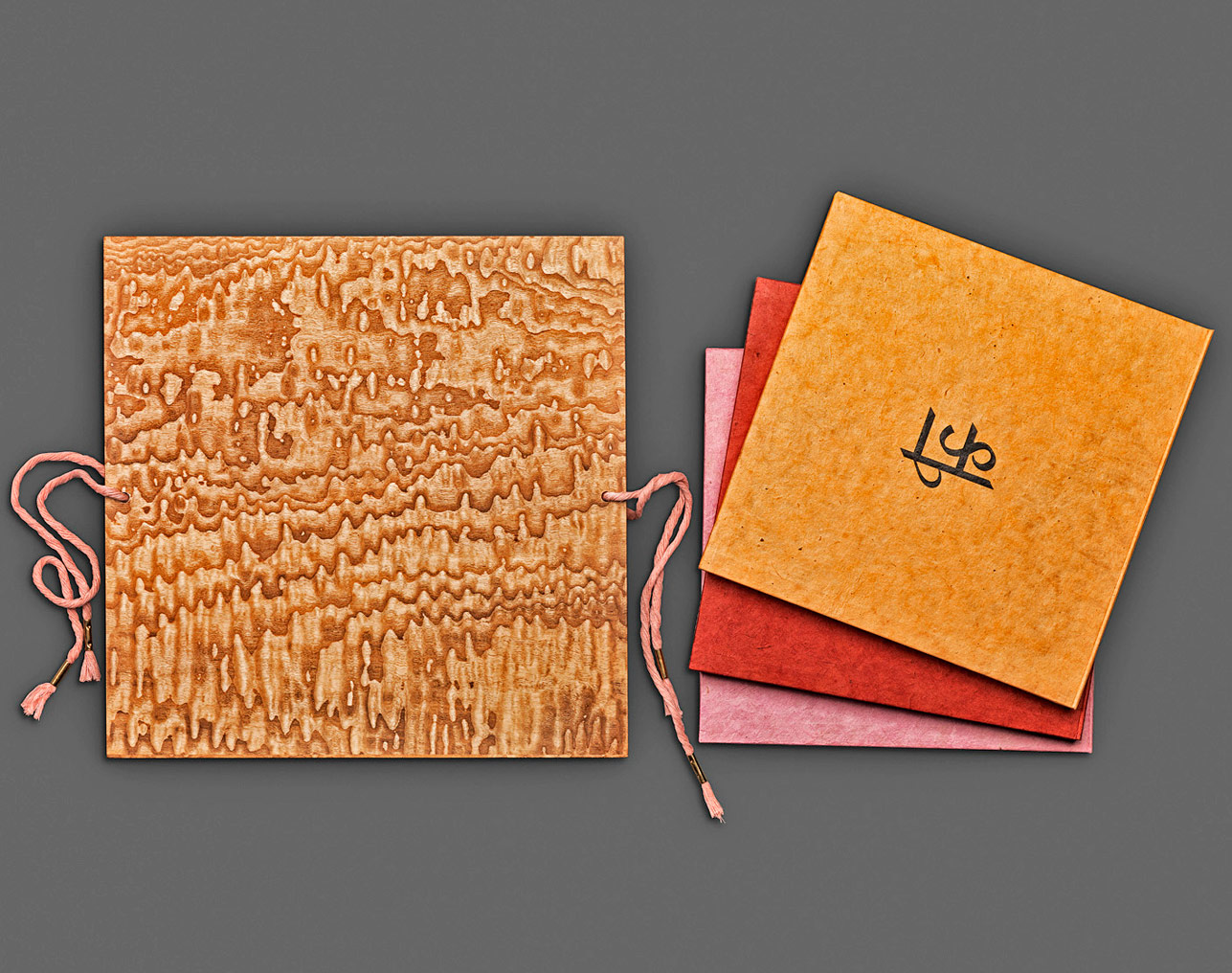 Five Hours to Simla 1998
Photographs by Mary Ellen Mark
(4 signed silver prints)
Text in English by Anita Desaï
(translated into Hindi by S. Joshi)
Part of the edition with a tray case
designed by Ettore Sottsass, in elm
wood closed by Indian cotton cords
Graphic design by Jacques Le Scanff
16 x 16 x 0.7 inches
An edition of 55 copies
Since its creation, Editions Coromandel has wanted to pay tribute to the Indian coast that inspired its name.
The Indian writer Anita Desai entrusted the publishers with a text describing a family trip to Simla, a little town situated at the feet of the Himalayas where the bourgeoisie of New Delhi occasionally migrates in order to escape the hot season. The American photographer Mary Ellen Mark, who had traveled numerous times to India (and had taken there the photographs for her famous book Falkland Road), chose four unpublished photographs from the '80s to illustrate this story called Five Hours to Simla. The original prints were developed by hand with the utmost care. Short excerpts of the English text were translated into old Hindi to appear as a decorative frame in tones of saffron.
The tray case was designed by the Italian designer Ettore Sottsass, who was a connoisseur of India, and had dedicated in the '80s a collection of furniture to this country, that he had called Bharat. It was crafted by Gallery Mourmans in Maastricht, Netherlands, with a mahogany frame covered by veneer elm and colored cords in Indian cotton.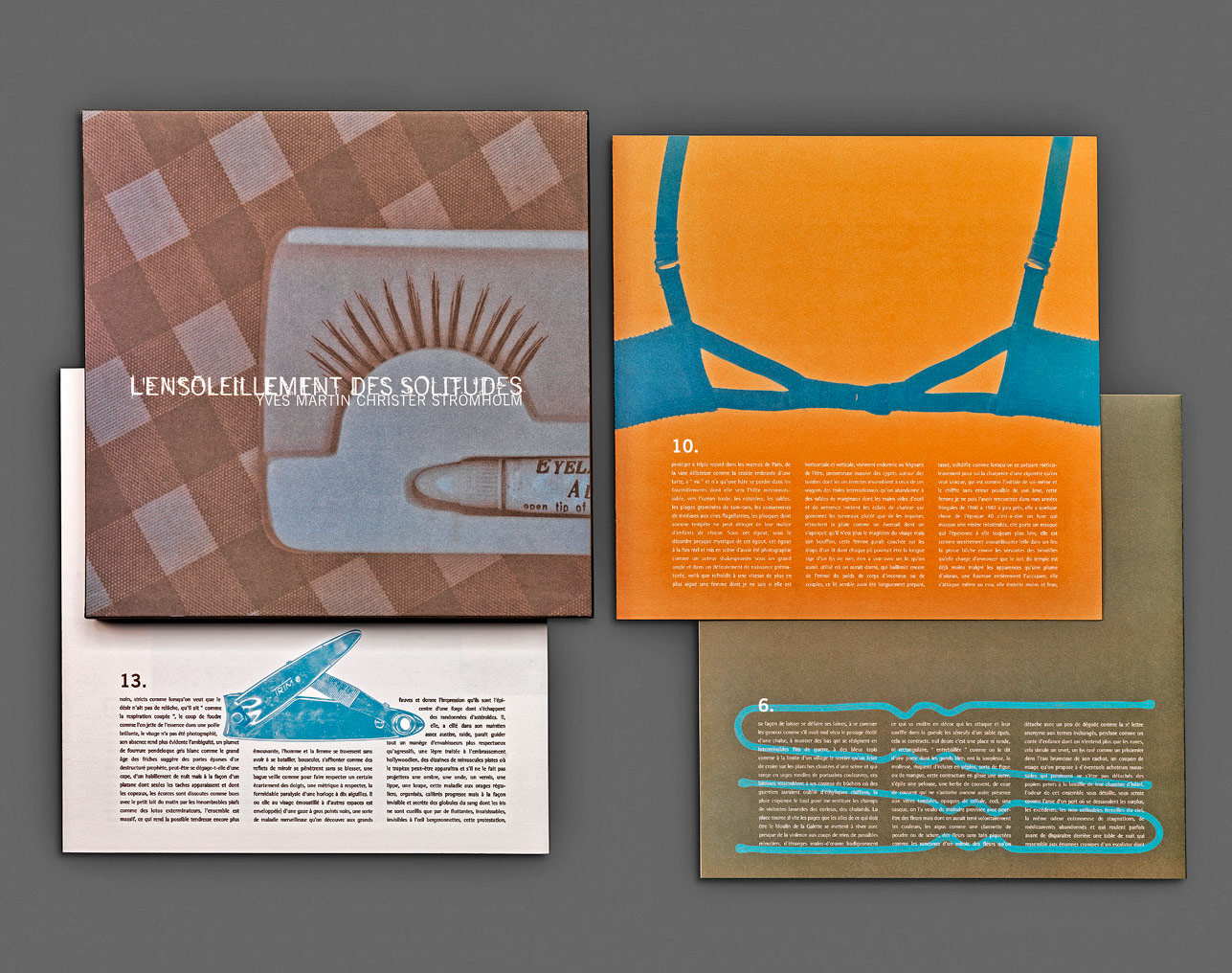 L'Ensoleillement des Solitudes 1999
Photographs by Christer Strömholm
(6 signed silver prints)
Text in French by Yves Martin
Graphic design by Olivier Andreotti and Pénéloppe Monnet
Traycase in printed cardboard
13.7 x 13.7 x 1.4 inches - An edition of 50 copies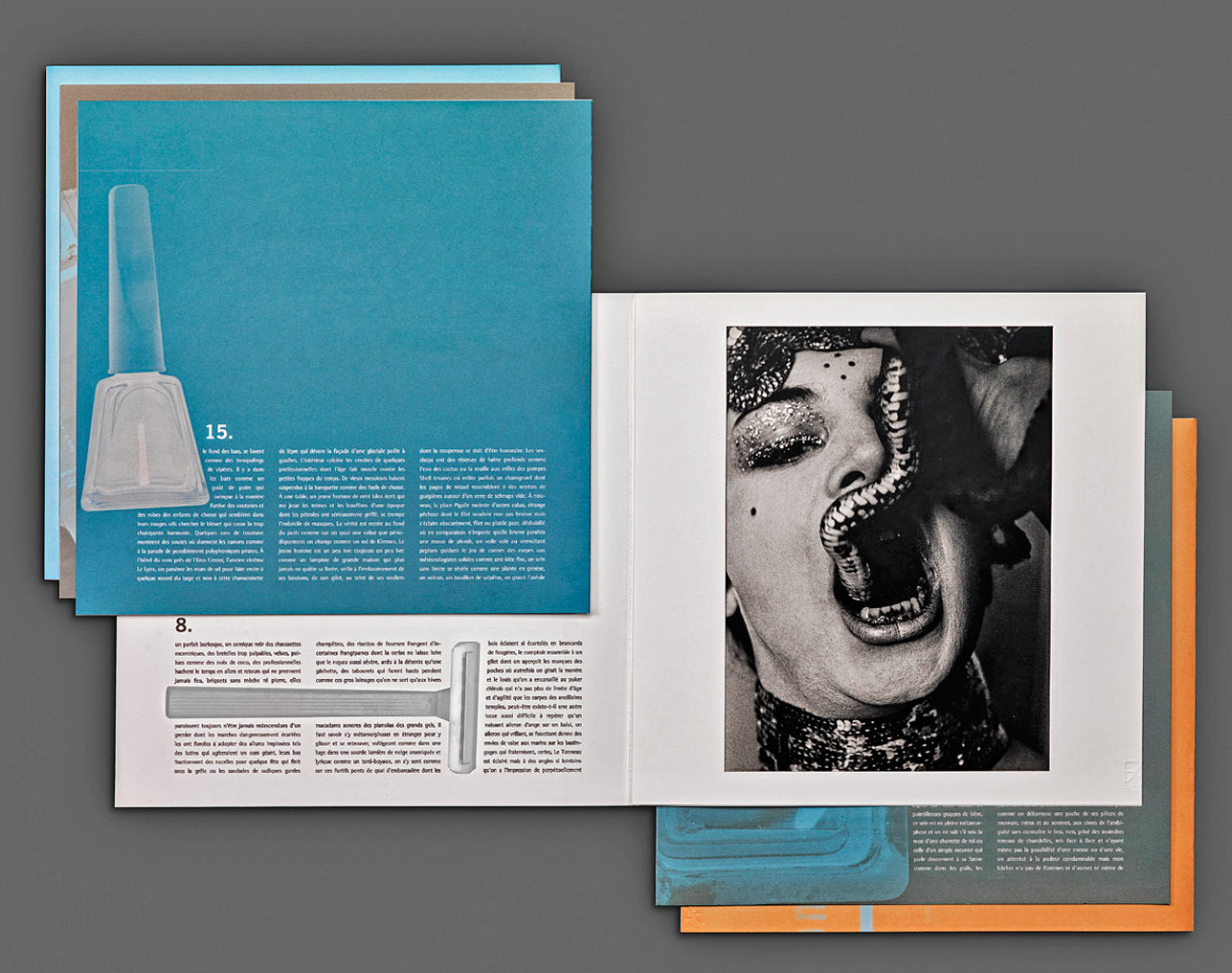 Christer Strömholm, the legendary author of the book Place Blanche, was the oldest photographer with whom Editions Coromandel ever worked. As a result, the editors couldn't ask the artist for new images. They decided to choose, among his most famous photographs, a set that could feed the imagination of the poet Yves Martin.
Both the author and the photographer had lived in the Place Pigalle in the '50s, and had extracted the substance of their works from the atmosphere of this district in Paris. The images represent the world of the night, of prostitution and its transvestites and peep shows. The amazing aestheticism of those disturbing images, taken in the '50s and '60s by Strömholm, contrasts with the darkness of the subject and prefigures the work of many contemporary photographers such as Nan Goldin.
Martin died a few weeks after the publication of the book, and Strömholm not long after in 2002.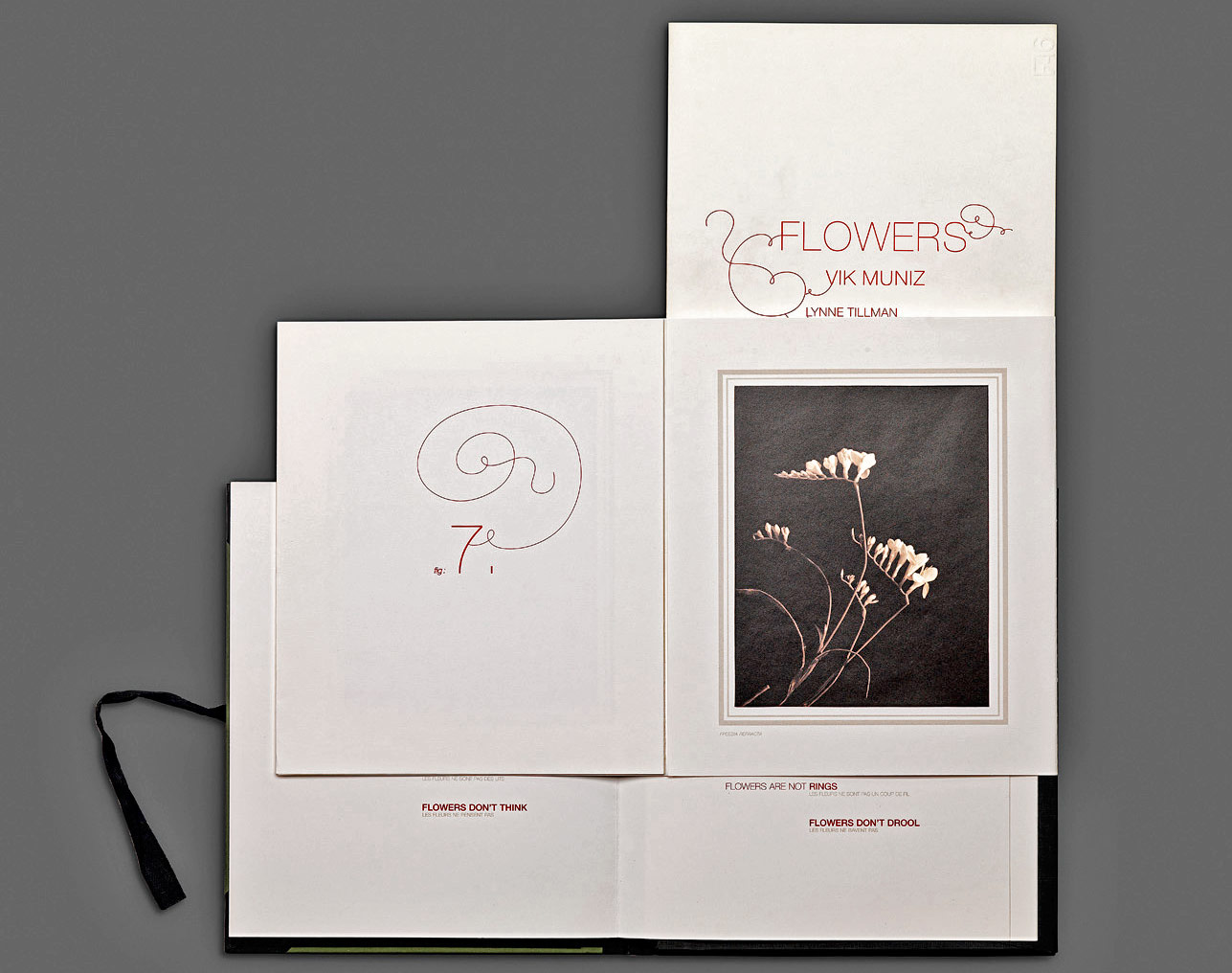 Flowers 1999
Photographs by Vik Muniz
(6 signed silver prints)
Text in English by Lynne Tillman
(translated into French by François Boisivon)
Graphic design by Olivier Andreotti and Pénélope Monnet
Cardboard folder
13 x 11 x 0.8 inches - An edition of 50 copies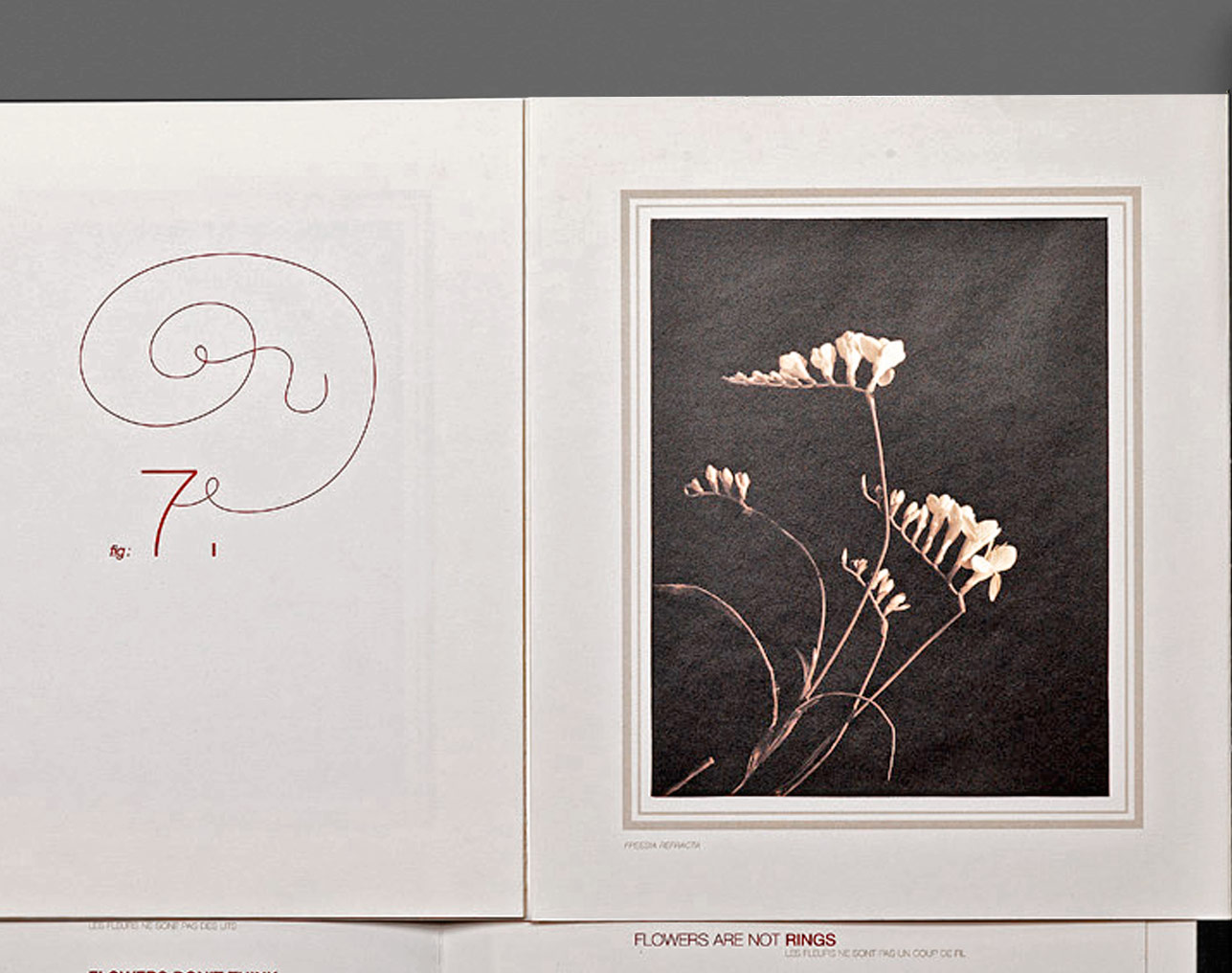 The Brazilian artist Vik Muniz had been collecting artificial flowers for many years, and had even fabricated some himself from paper. For this book, he selected a series of images that evoke an old herbaria of the 18th century, an era during which amateur botany became a futile aristocratic entertainment. At first impression, the photographs appear to be of these classical herbaria. However, after observing the image more closely, the reader can easily detect the reflection of a piece of plastic or the paper's texture, and feels disconcerted.
Challenging our faculty of perception is a central element in the work of Muniz. This ironic approach inspired the American writer and art critic Lynne Tillman, who wrote for the book a long and tender poem on flowers filled with humor.
The photographs were enriched, in the printing process, with sepia and gold tones in order to emphasize their similarity to old prints.
The typography is a post-modern reinterpretation of the overornate initials of the 18th century. The book is presented in a dark-green paper folder inspired by old school notebooks.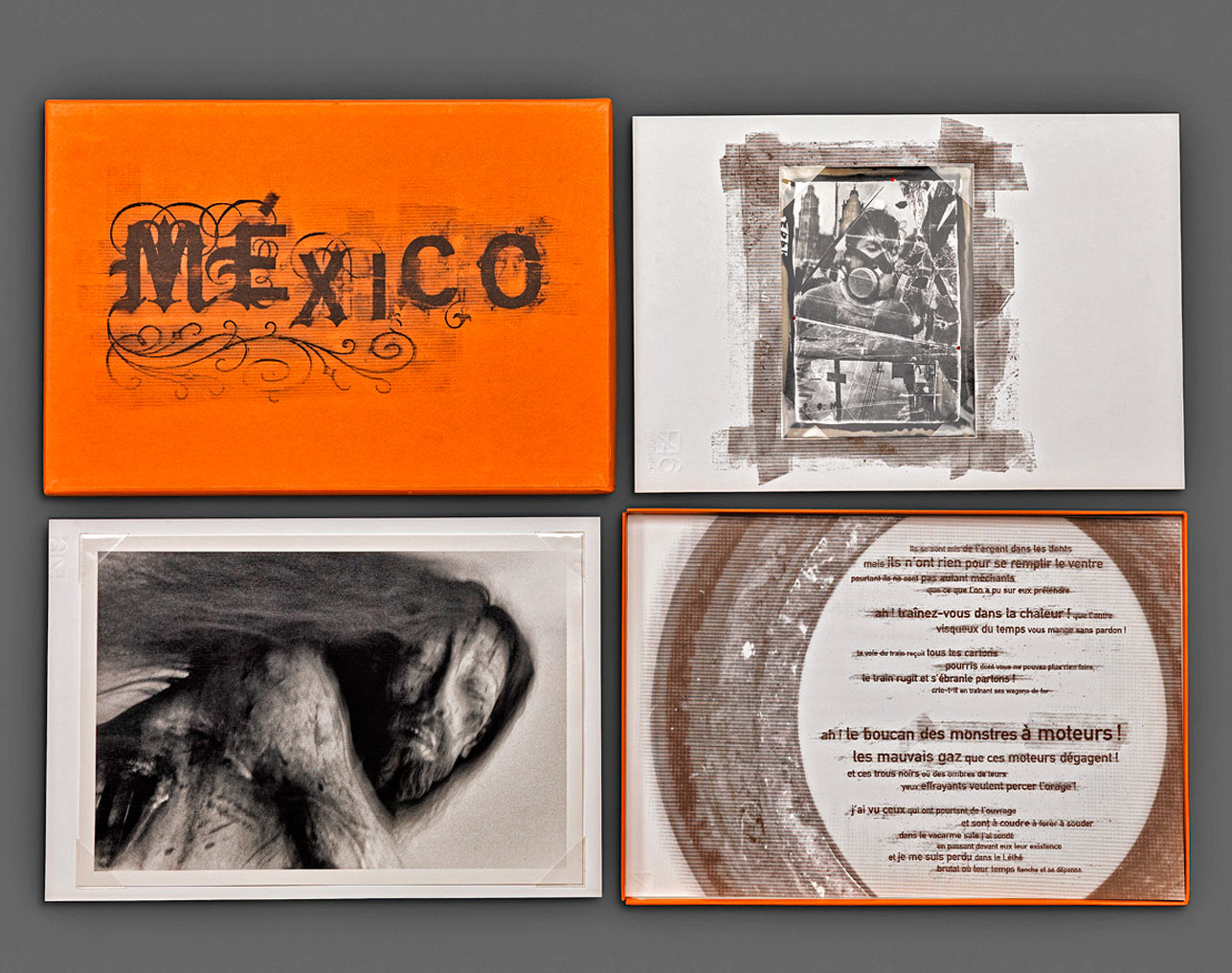 Mexico 1999
Photographs by Pablo Ortiz Monasterio
(7 signed silver prints, and a unique photographic collage)
Poems written in French by William Cliff
Graphic design by Olivier Andreotti and Pénélope Monnet
Printed cardboard tray case
10 x 14 x 0.8 inches - An edition of 35 copies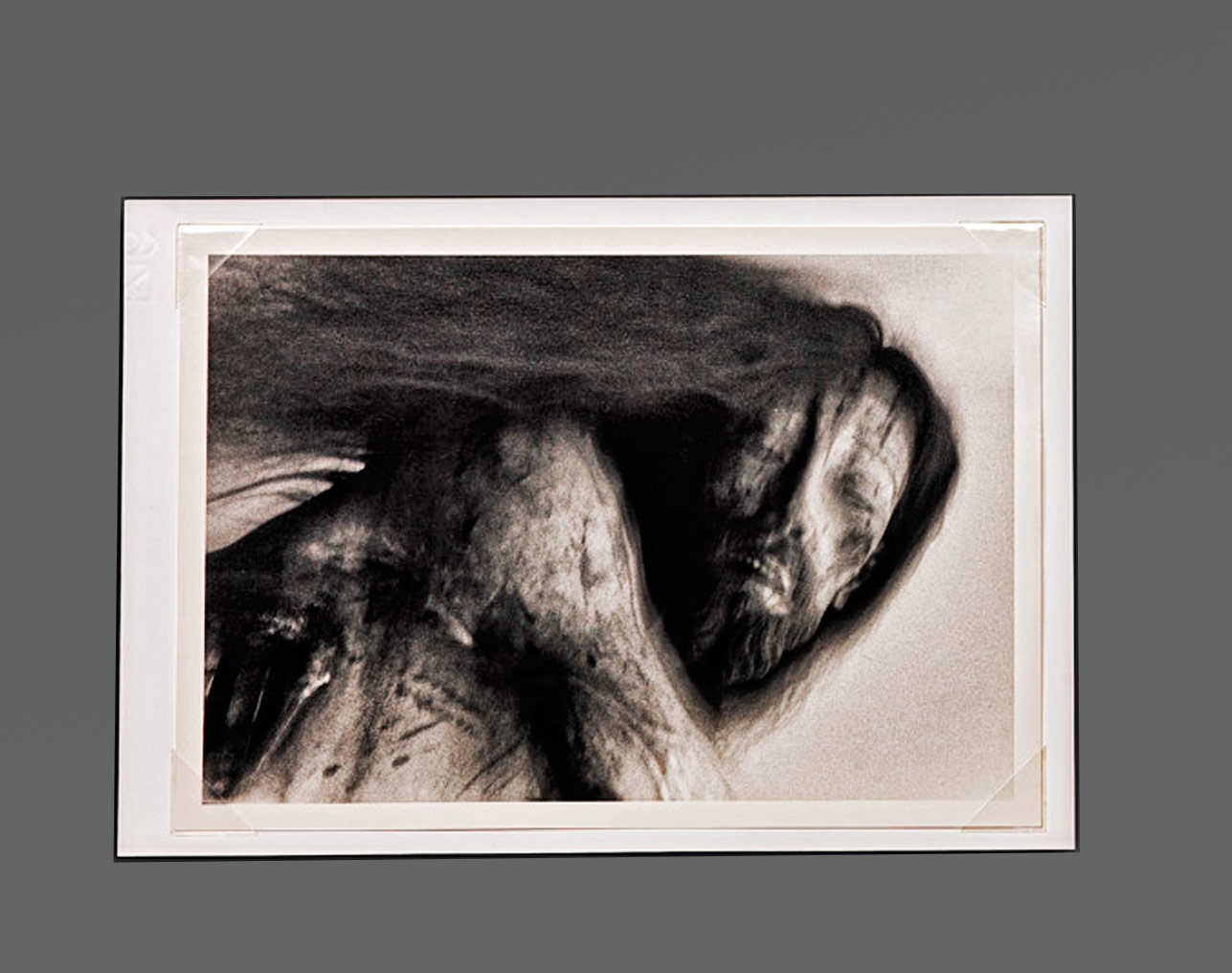 Upon his return from Mexico where he had been giving a series of conferences, the Belgian author William Cliff gave the publishers a dozen poems recounting his last impressions of Mexico. Cliff was expressing in his own words the daily lives of the city's outcasts, which evoked the dark images of the Mexican photographer Pablo Ortiz Monasterio..
As the author of The Ultima Ciudad, one of the most impressive books dedicated to urban reportage of recent years, the photographer selected 6 images to accompany the poetry of the Belgian writer, including a photomontage made specially for the book.
Surface 2000
Photographs by James Casebere
(6 original signed Fugiflex prints mounted on plexiglas)
Text in French by Mohamed Dib
(translated into English)
Graphic design by Arthur Ceria and Steven Learner
Text laser-printed by Patrick Nash
on transparent plastic sheets
Traycase in sandblasted aqua plexiglass,
which can also be used as a lectern
21 x 14 x 2 inches - An edition of 60 copies
The American photographer James Casebere has always been captivated by architecture and theories on social spaces, particularly those by Michel Foucault.
In his studio, he builds mockups of troglodytes and ghosts cities and flooded or abandoned buildings, that he then represents in a very metaphysical way in his photographs. In the book Surface, six of these images were paired with a short text by the Algerian writer Mohammed Dib. It describes the destruction of a town, and the efforts of its inhabitants to re-create an underground society. The photographs are independent inside the book, appearing as laminated C-prints mounted on sintra. The idea was to preserve the organic and etheral quality of the images.
The text is laser-engraved on thin sheets of transparent plexiglass through which the images appear in a very fluid manner, page after page. The shadows of the printed letters reflect on the photographs, making the words readable. When stacked on top of each other, these transparent pages reveal the text in its whole. The book rests in a heavy transparent tray case–which can also be used as a lectern–made of three different kinds of plexiglass, sandblasted, translucent, and aqua. The transparent lid covers the first image like an intriguing veil.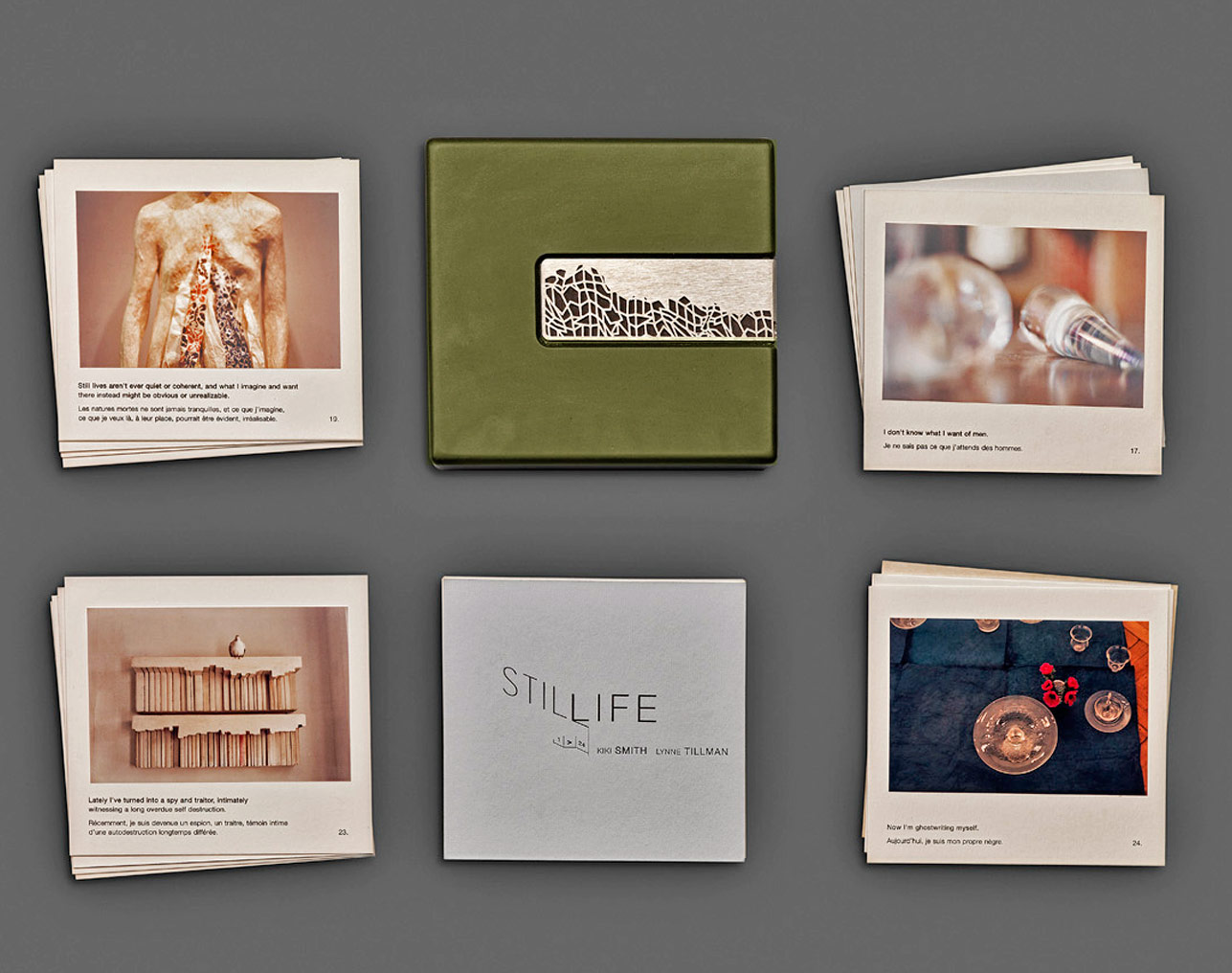 Still Life 2000
Photographs by Kiki Smith
(24 signed C-prints)
Text in English by Lynne Tillman
Part of the edition with a bottle-green resin
tray case latched by a lacelike laser-cut out
metal clamp,
designed by Ronan and Erwan Bouroullec,
Graphic design by Olivier Andreotti and Pénélope Monnet
6.7 x 7 x 2.8 inches - An edition of 60 copies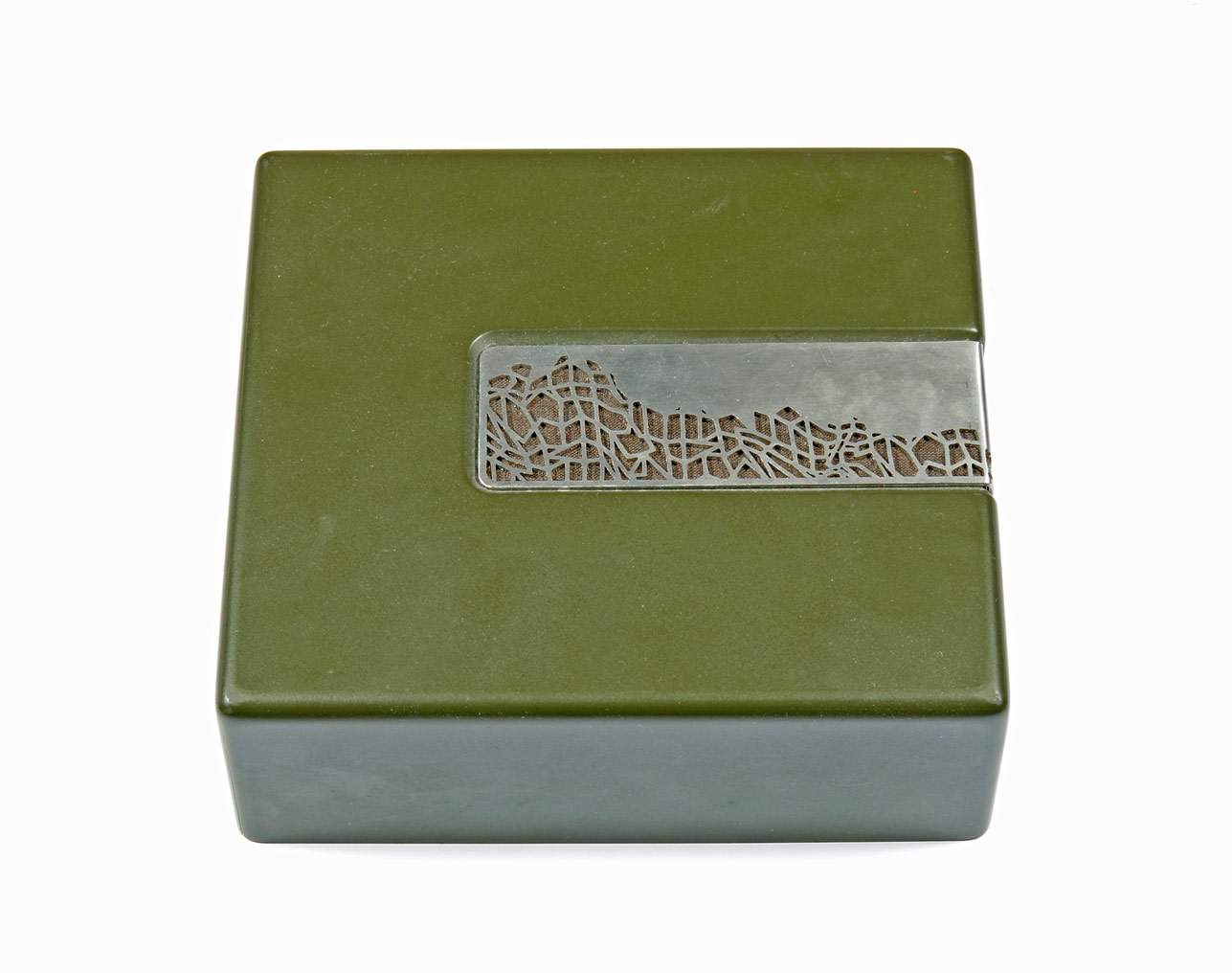 Friends since the early 1980s, the American artist Kiki Smith and her fellow writer and art critic Lynne Tillman had already published two books together. The publishers deliberately gave them carte blanche for this collaboration. Tillman chose 24 images from Smith's photographic work. Tillman responded to them in writing, with a short poem composed of 24 sentences, as a layman would compose for a Book of Hours. The photographs show the artist's everyday life and intimate moments, her pets and her home, with some of her installations and sculptures. The size of the photographs makes us think of family albums, adding to the intimate character of the work. The tray case for the book, designed by the Bouroullec brothers, is a mossgreen plastic box latched by a lacelike metal clamp.
Monologue d'une Ombre 2002
Photographs by Miguel Rio Branco
(8 signed ilfochrome prints)
Text in Portuguese by Augusto dos Anjos
(translated into French by Didier Lamaison)
Graphic design by Olivier Andreotti and Pénélope Monnet
Traycase by Michele de Lucchi,
in sheets of glass held by a metal circle
Diameter of 14.2 inches, depth of 1.6 inches
An edition of 60 copies
Exceptionally breaking their rule to only work with living writers, the editors published a text by Augusto Dos Anjos. The great Brazilian Parnassian poet had died in 1914 at the age of 30 years old, leaving this long, dark, and haunting Symbolist poem that had been haunting the Brazilian photographer Miguel Rio Branco for many years. Rio Branco chose to illustrate this poem with eight of his photographs–a broken windshield, the corpse of a horse, a run-down wall portion– which, although leaning toward abstraction, all evoke violence and destruction.
The book is presented in a tray case designed by Michele de Lucchi, a hollowed steel circle enclosing the pages between two glass plates, which provides a framework for the photographs.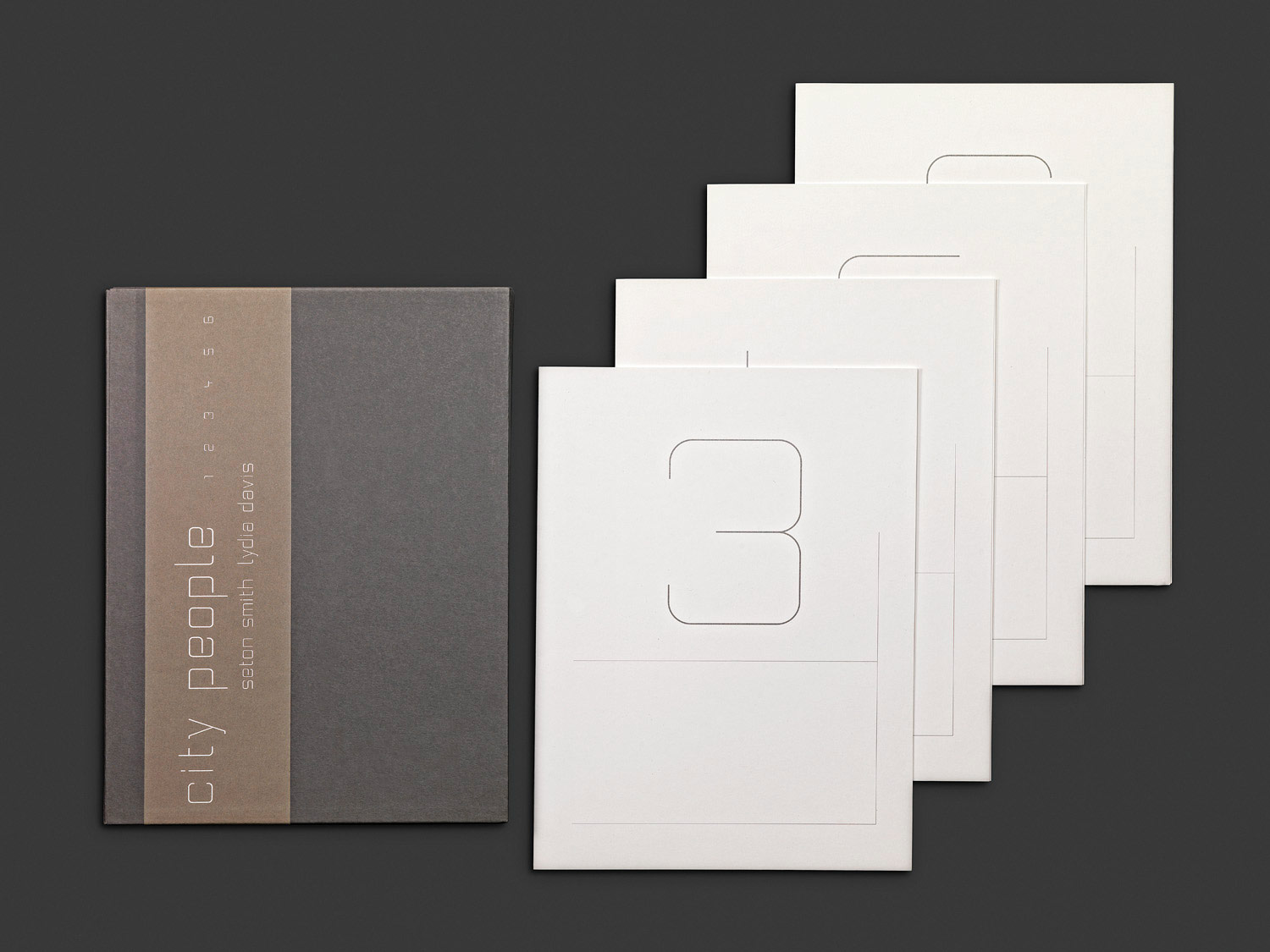 City People 1999
Photographs by Seton Smith
(8 signed cibachromes)
Text written in English by Lydia Davis
Graphic design by Olivier Andreotti and Peneloppe Monnet
16.4 x 12.2 x 1.2 inches - An edition of 50 copies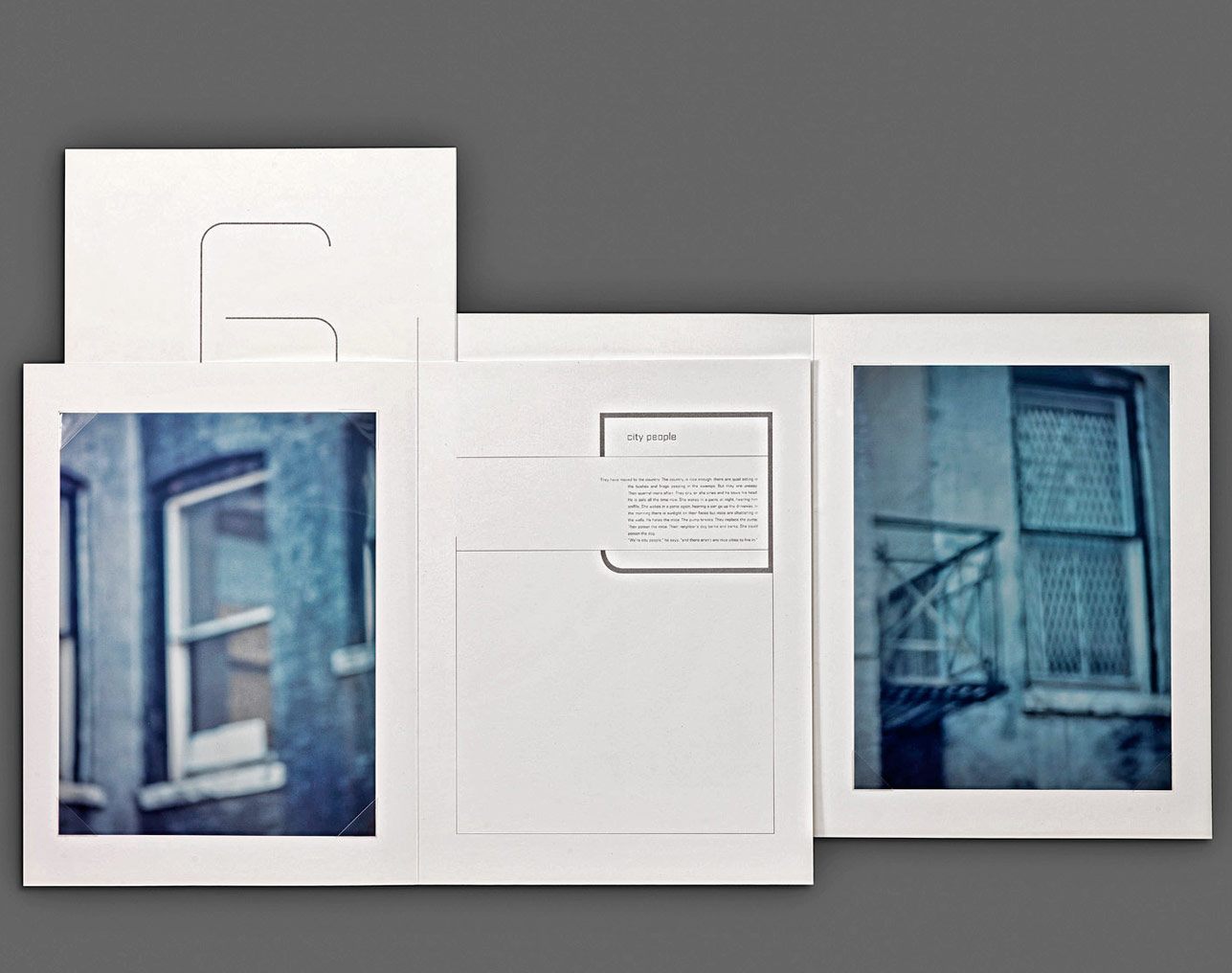 Lydia Davis, one of the most celebrated novelists of our time and contributor to the New Yorker, sent to the publishers a dozen short texts. The American photographer Seton Smith then selected five of these texts and paired them with some images of a building's court-yard in the East Village, which she had taken during one of her recent visits to New York. Based in Paris, Seton Smith, Kiki Smith's younger sister, is known for the unreal and dreamlike atmosphere of her photographs.