Published Books
ENVELOPPE-MOI 2013
Original text, written for the book in French by Jean-Philippe Toussaint,
translated into English by John Lambert,
9 pigment prints by Annette Messager, specially created for the book by the artist,
(10 signed prints for the 26 first copies),
printed by Robert Hennessy,
An original photograph by Jean-Philippe Toussaint,
A set of facsimile postcards written by Jean-Philippe Toussaint,
A set of blank postcards,
Text, colophon page, and title page designed by Philippe Apeloig,
Traycase imagined by the editors in collaboration with the artist and the graphic designer,
serigraphed by Grenfell Press and handcrafted by Mark Tomlinson,
This edition was created by May Castleberry for the Library Council of MoMA, and Céline Fribourg for Editions Take5,
An edition of 110 copies, including 26 copies in which all works are signed by the artist.
14.6 x 11.6 x 1.6 inches
Enveloppe-moi is an artist book published by MoMA, in collaboration with Editions Take5, Annette Messager, and Jean-Philippe Toussaint.
This edition, conceived by the artist in Paris, comes to readers as something found deep in a closet or tucked under a bed, ready to be opened and brought back to light. Within separate enclosures a handmade box con-tains: a postcard correspondence between the artist and the writer/artist Jean-Philippe Toussaint, a letter and a photograph by Toussaint, and ten photographic collages by Messager. These contents could be souvenirs of an intensely imagined or experienced liaison, or clues to a secret history. The whole represents an enigmatic visual and verbal exchange.
Over a five-month period in 2011, Messager sent fifteen postcards, one by one, to Toussaint. Each card features on one side a black-and-white photograph of one of Messager's preexisting artworks. The collection of postcard images presents a series of indefinite but suggestive images of obscured words, phrases, nets, and body parts. Toussaint replied on the blank side of each postcard with brief comments, questions, and literary references apparently prompted by the image on the opposite side. A second set of postcards reproduces the same artworks by Messager, but these postcards are still blank on the writer's side. At the artist's suggestion, readers may consider sending the "virgin" postcards (as the artist describes them) to another correspondent.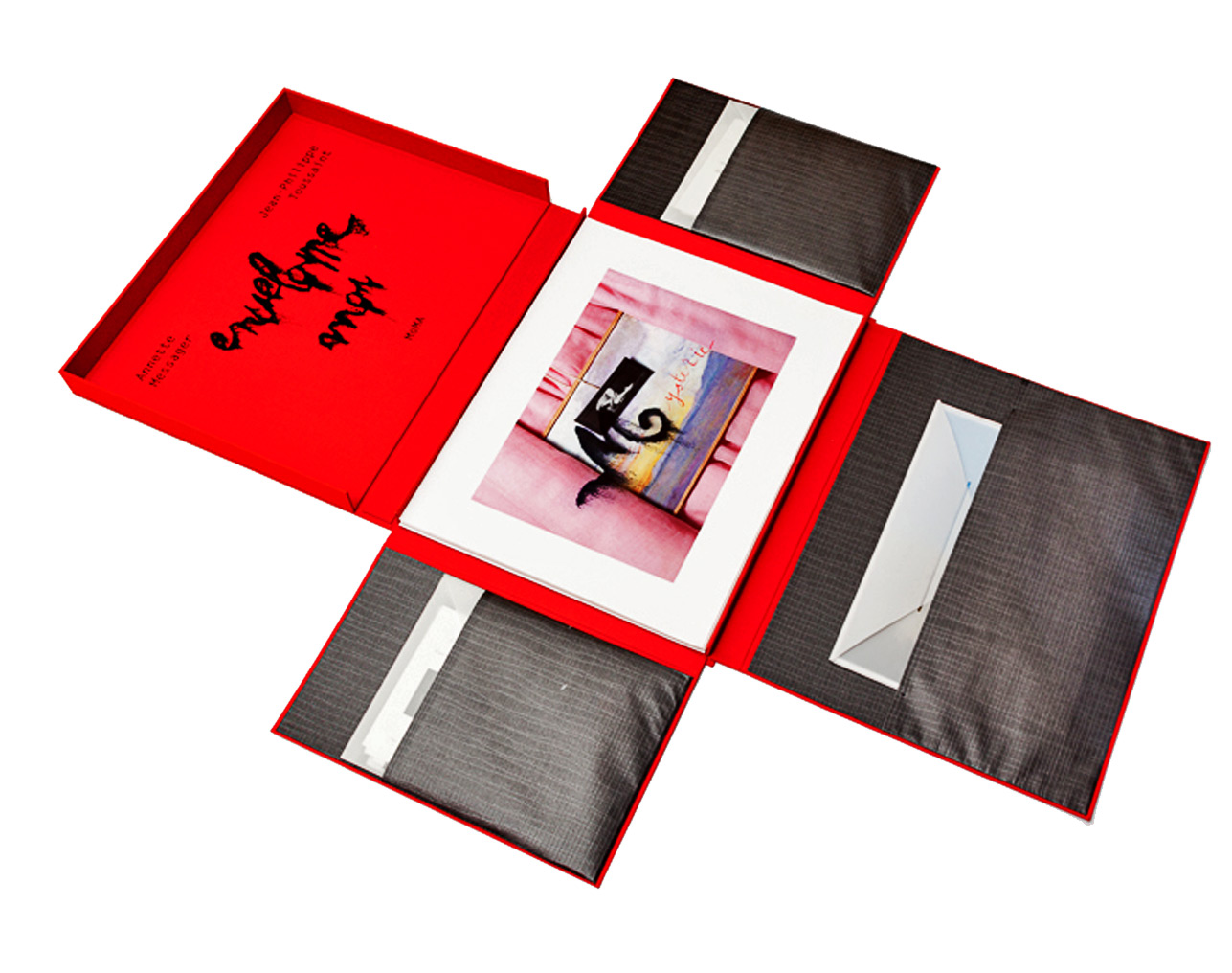 Messager also created ten collages that visualize emotionally heightened (and slightly ironic) scenes from a fictional romance : A manipulated photograph of the artist as a young woman, trapped in a net like a spider's web; a B-movie style image of a lover's kiss; a playful, doodled image of a floating mermaid overlaying a dark installation of photographic memorabilia; artworks based on graphic representations of words such as "chaos," "trouble," and "hotel-fiction"—these and other images are as fantastical and expressive as the written correspondence is enigmatic. They deepen the mystery of the boxed collection. Nine of these collages appear as pigment prints, printed with the utmost care by Robert Hennessy, in the center well of the portfolio. A tenth collage is stamped onto the cloth-covered box. (This collage also appears as an additional pigment print in the deluxe edition.) Three more images are printed by silkscreen on the cover of the box in red cloth.
During the five-month correspondence, Toussaint photographed the quotidian circumstances in which he wrote on his side of Messager's postcards. One digitally printed photograph by Toussaint of a hand dropping a postcard into a postbox slot can be found within a slot on an inside flap of the portfolio, along with Toussaint's digitally printed letter.
The text and the colophon page were laid out by Philippe Apeloig with the Lettera font, in a simple manner, like a factual record of this correspondence. The page title was designed by the graphic designer in a way to preserve the mystery and transience of this alleged affair.
The portfolio was designed by the editors, in collaboration with Apeloig and Messager. The artist specially made some drawings that were silkscreened on the casing by Grenfell Press, which was assembled by Mark Tomlinson. This edition was created for the Museum of Modern Art in New York by May Castleberry, editor of the Library Council of MoMA, and Céline Fribourg of Editions Take5.