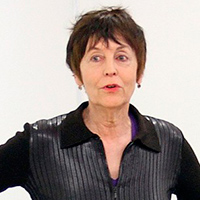 Annette Messager is a French artist born in 1943 in Berck. Her work combines painting, embroidery, sculpture, collage, and writing.
After interrupting her studies at the Arts Décoratifs in Paris on the eve of May 68, Messager started to create her first «Collections,» of photo albums and sentences extracted from the press, annotated and rewritten. Since the early 1970s, during the 154 155 heart of the «Parisian scene» (composed of Christian Boltanski, Sarkis, Paul-Armand Gette among others_principally male artists who featured their «individual mythologies »), Messager invented for herself many lives, allowing each one to be different, each corresponding to an artistic project and a title. For each of these «Annettes,» a repertoire of gestures and practices, attitudes and themes, are inventoried, revealing at once the feminine universe, its genetic code, buried desires, and stereotypes.
In 1971-72, Messager created a work for Galerie Germain, with wool and fabric: Les Pensionnaires, a pile of stuffed sparrows swaddled in knitted fabric. This work marks the beginning of an ongoing reflexion on the stauts of women.
In 1974, her collection of proverbs is largely inspired by an anthology of ideas attributed to women. Those proverbs, embroided on white cotton, are a compilation of misogynist sentences. Her photo albums (Les hommes que j'aime, or Mes jalousies), her works, Make Parade (1995) and Sous vent (2004) explore women's concerns. Rather than claiming the right to judge others, she's claiming the right to reinvent herself endlessly. Messager contemplates her desire to assert her idendity as a human being within the cultural, sexual and existential constraints and social imperatives that are part of any woman's life.
Like an entomologist, she dissects our cultural habits and questions the status of women but also violence felt in childhood or more universally experienced by human beings in the contemporary world. After a show in Munich in 1973 and a solo exhibition at the Museum of Modern Art of the City of Paris in 1974, the artist then began a continuous creation. Her work were exposed to the world, with two major exhibitions in the United States, Los Angeles County Museum of Art and MoMA in New York (1995), followed by exhibitions in Buenos Aires and the Reina Sofia Museum Madrid (1999). Messager also participated in numerous biennials (Paris Biennale (1977), Documenta VI (1977) and XI (2002), Sydney Biennial (1979, 1984, and 1990), Venice (1980, 2003 and 2005) and Lyon Biennial (2000).
She received in 2005 the Lion d'Or of the 51st Venice Biennale for her work Casino.
In France, Messager's work was the subject of major exhibitions at the Museum of Modern Art of the City of Paris in 2004, the Centre Pompidou in Paris in 2007, the Museum of Contemporary Art of Strasbourg in 2012. The artist has taught at the École nationale supérieure des Beaux- Arts in Paris Messager says of her work: «Conceptual art interests me as much as the art of the insane, astrology and religious art. It is not ideologies that attract me but above all, their repertoire of shapes. I make fun of witchcraft and alchemy even though I use their signs.»