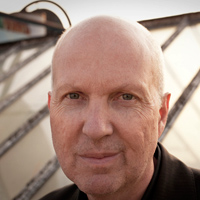 Jean-Philippe Toussaint is a Belgian prose writer and filmmaker born 1957. Toussaint studied history and political sciences, and at 20 years old, he suddenly felt the urge to write. Retrospectively, he believes two books were resposible for it: films of my life, by François Truffaut, and Crime and Punishment by Dostoievsky. His first attempt at writing involved a chess world champion as his protagonist.
In 1985, Toussaint published La Salle de Bain (Editions de Minuit) which brought him some recognition. His rigorous writing is reminiscent of Beckett, or even of the style of "le Nouveau Roman". He's described as a "minimalist" writer. Toussaint shows the absurdity and the nonsense of things, while being poetic and dreamlike_ precise, transparent writing with a touch of melancholy that mixes prosaism and refinement.
Extremely visual and cinematographic, he also renders in a very sensual way the nuances of the light, the colors, and the smells of his travels in Japan, China or Corsica. His books have been translated into more than twenty languages, and his photographs shown in Brussels, Japan, and Paris at the Musée du Louvre. Toussaint won the Prix Médicis in 2005 for his novel Fuir. The 2006 book La mélancolie de Zidane is a lyrical essay on the headbutt administered by the French football player Zinedine Zidane to the Italian player Marco Materazzi during the 2006 World Cup final in Berlin. In 2009, novel La Vérité sur Marie won the prestigious Prix Décembre. Toussaint's last novel Nue, was nominated for the Prix Goncourt.