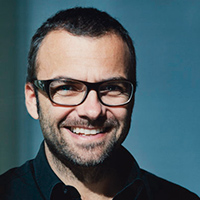 Robert Stadler is an Austrian designer born in Vienna in 1966.
He studied design at the Istituto Europeo di Design in Milan and then at the ENSCI in Paris, where he co-founded the group Radi Designers in 1992. In 2000, Stadler left Radi to work on his own. Today he lives and works in Paris and Rio de Janeiro. Stadler also teaches periodically. In 2009, he was a visiting professor at Hamburg's University of Fine Arts.
His works are presented in various private (Fondation Cartier) and public collections (FNAC, FRAC Nord – Pas de Calais). His customers include the French Academy of Cinema Arts and Techniques, the Costes group, Dior, and Ricard. Stadler is represented by Galerie Emmanuel Perrotin in Paris and Carpenters Workshop Gallery in London.
Stadler is active in very different domains, and does away with hierarchies that separate free creation, industrial orders, and popular demand. He challenges the exhibition space, blurring the accepted boundaries between art and design. And he questions the status of the object, be it an artwork or a product, as well as the frontiers between the affected and the modest, the elegant and the vulgar, the serious and the absurd. Stadler is particularly interested in exploring the concepts of identity, shifts and dissolution.