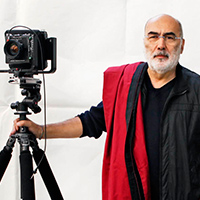 Gabriele Basilico is an Italian photographer born in Milan in 1944.
He was one of today's best known European documentary photographers. Transforming cities and industrial landscapes, which he tirelessly immortalized throughout his life, were his fields of investigation.
Trained as an architect, he photographed architecture and urban spaces, and worked for publishers, industrial companies, public and private institutions.
In 1983, the PAC in Milan presented his first major exhibition, "Milano. Ritratti di fabbriche". In 1984 and 1985 Basilico took part in the DATAR photographic mission, an initiative by the French government to document changes in the national landscape of the 1980s. He was then invited to participate in many similar projects in various European countries, including Italy, France, Germany, Switzerland, Spain, Portugal, Holland, and Austria. In 1990, Basilico was awarded the Grand Prix International du Mois de la Photo for the "Porti di mare" show in Paris, documenting his photographic research on various seaports.
In 1991, he participated in a photographic project on war-torn Beirut, together with a group of international photographers.
In 1994, Gottardo Foundation Gallery in Lugano presented a major retrospective on Basilico bringing together fifteen years of his photography (1978-1993), which travelled to several major European museums. On this occasion the book L'Esperienza dei luoghi was published. In September 1996 he was awarded first prize by the international jury of the Sixth Exhibition of Architecture of the Venice Biennial for his photographs of contemporary Architecture. In the spring of 2000, the Stedelijk Museum in Amsterdam showed a retrospective, related to his latest book Cityscapes. This book presents 330 images of the photographer's work from 1984 to 1999. The same exhibition was shown in Porto by the CPF (Portuguese Center of Photography), MART (Contemporary and Modern Art Museum of Trento and Rovereto), and MAMBA (Buenos Aires Museum of Modern Art). That same year Basilico started his research on the metropolitan area of Berlin at the request of the German Academic Exchange Service.
IVAM (Valencia Institute of Modern Art) also asked him to undertake a photographic study of Valencia for the exhibition «Milano, Berlin, Valencia.» Basilico was also awarded the Premio INU by Italy's National Institute of Urbanism in 2000 for his role in documenting contemporary cities through photography.
In 2001 he made a large series entitled "L.R.
19/98" about the deserted areas of the region of Emilia-Romagna, and began research into the archaeological area of the region of Provence-Alpes-Côte d'Azur, on the theme of the exhibition "Provincia Antiqua" for the 33rd International Photography Festival in Arles, France.
In June 2002 he was awarded the prize for the year's best photography book by PHotoEspaña for Berlin. That same year, Basilico documented Trentino, an autonomous province in Italy, which led to an exhibition in the MART. In 2003, Basilico returned to two important places where he had photographed earlier: the North of France, where he was invited by Cherbourg to take a fresh look at the landscape he had already documented in 1984-85 for the DATAR mission; and Beirut, where he took photographs of the central part of the city, now rebuilt, as a counterpoint to the photos from 1991. This work resulted in the books Bord de mer (Seaside) and Beirut 1991 (2003). In 2003, he also took part in the São Paulo 5th International Biennial of Architecture and Design, showing images of recent Portuguese architecture. This exhibition, entitled «Disegnare nelle città,» was presented at the Triennale di Milano in January 2004.
That same month, "L.R. 19/98" and the larger version of "Seaside" were exhibited at the MIT Museum in Cambridge, Massachusetts. In March 2004, as part of a research project on the city of Santiago de Compostela, the CGAC (Centro Galego de Arte Contemporanea) presented works by Basilico and other new European artists.
In the autumn of 2004, the photographer Basilico participated in the exhibition "Arti e Architettura 1900-2000" at the Doge's Palace in Genoa, and completed two photographic series on Barcelona and Mantua.
The Naples' Institute of Architecture invited him to make a new photographic series for the exhibition «Obiettivo Napoli.» That exhibition, titled "Luoghi memorie immagini" (Imagined heritage sites) was shown in March 2005 in the Doric Room of Palazzo Reale. That same month, the permanent installation of a photographic opera was opened on the platform of Naples' Vanvitelli metro station. The book Scattered City, gathering 160 new images of European cities, was also published. In 2005, Basilico's work on the Turin urban area was shown in the group show "6xTorino" at Turin's Gallery of Modern and Contemporary Art.
His work was the subject of several retrospectives : in 2005 at the Villa Medici in Rome, in 2007 at the Maison Européenne de la Photographie (Photographs 1980-2006), in Paris, in 2008 at the San Francisco Museum of Art, the Teatro Carignano in Turin, and the Merz Foundation. Basilico exhibited in the Italian Pavilion at the 52nd Venice Biennale in 2007, and in several group exhibitions in 2008: «Artistas y Fotografos, coleccion Imagenes at Reina Sofía Museum in Madrid», «United Artists of Italy» at the Museum of Modern Art in Saint -Etienne, and «Italics» at Palazzo Grassi in Venice.
Basilico went back to Beirut the same year to take new photographs for the book Beyrouth, published by Editions Take5.
In 2012, the photographer exhibited works taken in Rio de Janeiro and Shanghai between 2010 and 2011 at Galerie Anne Barrault. In 2013, the Cini Foundation commissioned a series of photographs based on Piranesi's etchings of architecture, which was shown in Madrid, Barcelona and Venice.
That same year Basilico died at age 68.