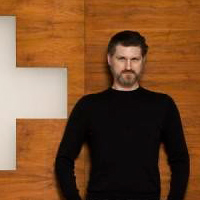 Philippe Cramer was born in 1970 in New York and raised in Geneva. After schooling in Switzerland, he obtained a diploma in the 19th- and 20th-century art history.
In 1996, he graduated with a Bachelor of Fine Arts from Parson's School of Design in New York. In 2001, he founded Cramer + Cramer and launched his own brand and creations. In 2003, Cramer + Cramer opened a gallery in Geneva in the Quartier des Bains, in the heart of the contemporary- art neighborhood.
Cramer has been commissioned to work on projects for Dom Pérignon (France), Bernhardt Design (USA), Georg Jensen (Denmark), Made.com (UK), and the city of Geneva. Publications such as Wallpaper, Vogue (Germany, Brazil), Elle Décoration (France, Italy, UK, Germany), AD (France, Italy, Germany), Weekend Knack, Metropolis and The Chicago Tribune have all published extensive articles on the designer.
Several exhibitions have been dedicated to his work, most notably at: le Garage and the Edward Mitterrand gallery in Geneva, Gallery S. Bensimon and ArtCurial in Paris, ESF gallery in Lausanne and the Spazio Setmani and Swiss Cultural Centre Culturel of Milan. In 2011, The Geneva Museum of Art and History gave him carte blanche in an exhibition entitled «L'Ornement Jamais». This ensemble has since been integrated in the permanent exhibition of the museum and is now part of the Geneva state heritage collections.
Cramer lives and works in Geneva.